Towards the end of December 2017, I published my very first app in the Microsofts appsource, 365 Notify
I have been asked, on countless projects/deployments, questions along these lines:
Cant CRM send a notification or email when X happens?
Do I have to refresh my dashboard each time to see if I have been assigned XYZ?
This is where the idea for 365 Notify came from. With that in mind, initially, 365 Notify was targeted to deliver notifications to Dynamics users only.
The anticipated benefits were that it could be used to:
Increase Productivity.
Allow users to stay connected to their environment.
Foster engagement.
Based on some conversations I've had with other people in the dynamics community, I believe that the benefits above could also be applied to other people or relationships managed within a Dynamics environment. For example, imagine you held store managers as contacts within your environment and as a business that processes applications for various stores within Dynamics, you might want to notify the store manager when an application was approved for their store. Whilst emails could be used, most people suffer from 'email fatigue' and a quick, short & precise notification could be a better alternative.
With that in mind, the latest update to 365 Notify supports sending notifications to ANY record(s) within your Dynamics environment or processes!
Below is an example screenshot of a custom notification that could be delivered to a store manager informing them of a customer approval. The screenshot actually shows 2 different notifications - both delivered using 365 Notify.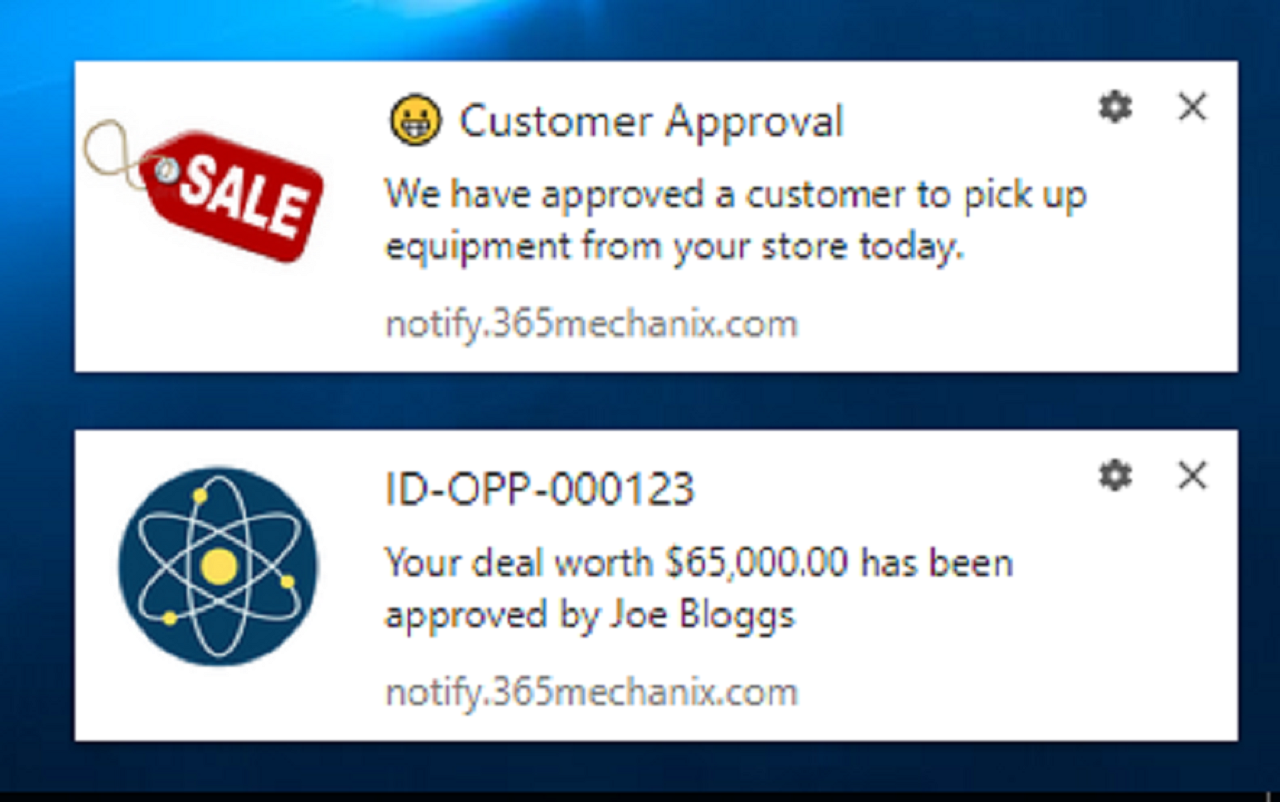 The screenshot below of the configuration (via the workflow step) shows how the store manager notification above could be setup. I will elaborate on each of the numbered items.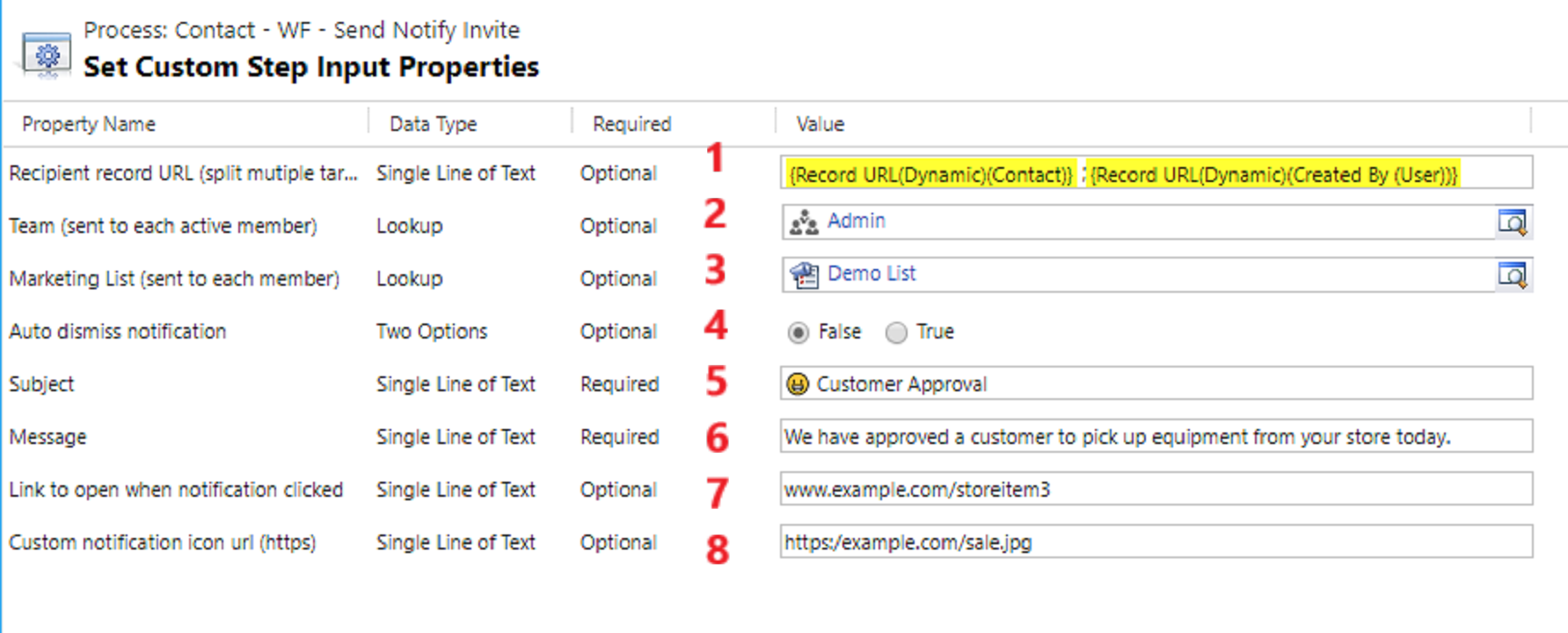 Note that notifications will only be delivered to recipients who have subscribed to receive notifications. A few example invitation workflows are included as part of the solution
This is where you specify the target recipient by populating the record URL for that record. You can specify multiple targets by adding a ';' between record URL values. In the example above, this notification will be sent to the contact record as well as the user who created the contact record.

Populating the team allows you to target multiple users in one go. Notifications will be sent to all active team members.

Marketing lists too are supported now. Both static & dynamic marketing lists can be used to target recipients to receive notifications. (If all the options in 1-3 are populated, 365 Notify will send notifications to all of the targeted subscribers)

The auto dismiss option, when set to 'True' means that the notification will dismiss itself from the recipients' screen after approximately 15 seconds. Whilst notifications should be meaningful and require user engagement, some might be time sensitive or if sent to multiple users in a team, an assumption could be made that at least one person would have interacted with it within that timeframe.

This is the subject of the notification. Dynamic values from CRM records can be used to populate it....emojis also work too! 😀

The key message you want to be delivered to the recipient.

This is the link that will be opened when the recipient clicks on the notification. It could be an external link or to your Dynamics environment etc.

An optional setting to allow you to customize the icon shown in the notification. You could place your own company logo or perhaps have different icons that show depending on the nature of the notification (i.e positive vs negative message).
The update is available now in appsource, give it a whirl and let me know your thoughts!